---
---
McGill University announced that it will award a Doctorate of Laws, honoris causa, to Hillel Neuer, the executive director of UN Watch.
Human rights activists, dissidents, and former political prisoners from around the world have welcomed the award.
McGill to Award Honorary Doctorate to Hillel Neuer, UN Watch Director
Doctor of Laws, honoris causa
HILLEL C. NEUER
B.A. (Concordia University), B.C.L./LL.B. (McGill University), LL.M. (Hebrew University)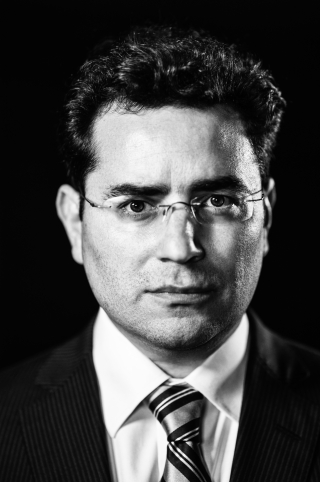 McGill alumni Hillel Neuer is an international lawyer, writer, and the Executive Director of UN Watch, a human rights NGO that supports the just and apolitical application of the values and principles of the United Nations Charter.
Prior to joining UN Watch, he practiced commercial and civil rights litigation at the international law firm of Paul, Weiss, Rifkind, Wharton & Garrison LLP, where he represented high profile individuals and corporations. Active as a defender of human rights, he challenged the New York State prison system in Reynolds v. Goord, a precedent-setting First Amendment case for prisoners' rights and freedom of religion, published in the AIDS Litigation Digest. Mr. Neuer was cited for the high quality of his pro bono advocacy by the United States Federal Court, as reported in the New York Law Journal. In Hines v. Widnall, he challenged the United States Air Force as an advocate for African-Americans claiming a pattern and practice of racial discrimination in hiring and promotions. As an international lawyer, he helped five Bulgarian nurses win a major case in their torture complaint against Libya, Nenova et al. v. Libya, before the United Nations Human Rights Committee.
Mr. Neuer has testified regularly before the United Nations Human Rights Council on behalf of victims in Darfur, China, Russia, and Venezuela, and the cause of peace in the Middle East. He has been an innovator at the UN in creating global platforms for courageous dissidents and champions of human rights from around the world. As founder and chair of the annual Geneva Summit for Human Rights and Democracy, he leads a cross-regional coalition of 25 non-governmental organizations that, over the past decade, have successfully placed an international spotlight on urgent human rights situations.
An expert on UN and human rights issues, Mr. Neuer has been quoted by the New York Times, Die Welt, and Le Monde, and has appeared in debates on CNN, BBC, and Al Jazeera. U.S. Congressman Howard Berman, speaking as Ranking Member in the House Foreign Affairs Committee, described him as "one of the strongest and most informed critics of the UN Human Rights Council."
The Honourable Irwin Cotler, human rights advocate and lawyer, has said that "if you want to pursue justice, you must feel the injustice around you." Hillel Neuer lives by those words and has been a voice for those without one. UN Watch has been a lone voice for truth and for justice both at the "Parliament of Man" and in the international media. Admired for his achievements, the City of Chicago declared September 15, 2016 to be "Hillel Neuer Day."
Doctorat en droit, honoris causa
HILLEL C. NEUER
B. A. (Université Concordia), B. C. L./LL. B. (Université McGill), LL. M. (Université hébraïque de Jérusalem)
Diplômé de McGill, Hillel Neuer est un avocat international, écrivain et directeur général de UN Watch, une ONG de défense des droits de la personne chargée d'appuyer l'application juste et apolitique des valeurs et des principes de la Charte de l'ONU.
Avant de se joindre à UN Watch, il a pratiqué le litige civil et commercial au sein du cabinet d'avocats international Paul, Weiss, Rifkind, Wharton & Garrison LLP, où il a représenté des particuliers et des entreprises célèbres. Défenseur des droits de la personne, M. Neuer a défié le système carcéral de l'État de New York dans l'affaire Reynolds contre Goord, un cas qui a fait jurisprudence en matière de droits des prisonniers et de liberté de religion (publié dans la revue AIDS Litigation Digest). La Cour fédérale des États-Unis a salué la grande qualité des services bénévoles offerts par monsieur Neuer (New York Law Journal). Dans l'affaire Hines contre Widnall, il a représenté un groupe d'Afro-Américains qui jugeaient discriminatoires les pratiques des Forces aériennes des États-Unis en matière d'embauche et de promotion. À titre d'avocat international, il a aidé cinq infirmières bulgares victimes de torture en Libye à remporter une cause majeure devant le Comité des droits de l'homme des Nations unies.
M. Neuer a dû régulièrement témoigner devant le Conseil des droits de l'homme des Nations unies au nom des victimes du Darfour, de la Chine, de la Russie et du Venezuela, et pour défendre la cause de la paix au Moyen-Orient. Il a su innover au sein de l'ONU par la création de plateformes mondiales à l'intention des courageux dissidents et des militants pour les droits de la personne aux quatre coins du monde. Président fondateur du Sommet de Genève pour les droits humains et la démocratie, il dirige une coalition interrégionale formée de 25 organisations non gouvernementales qui, depuis dix ans, sont parvenues à attirer l'attention du monde sur des situations urgentes.
Expert de l'ONU et des droits de la personne, monsieur Neuer a été cité par le New York Times, Die Welt et Le Monde, et il a pris part à des débats sur les ondes de CNN, de la BBC et d'Al Jazeera. Howard Berman, membre du Congrès des États-Unis qui s'exprimait en sa qualité de membre de haut rang de la commission des affaires étrangères de la Chambre des représentants, l'a décrit comme « l'un des critiques les plus solides et les mieux informés au sein du Conseil des droits de l'homme de l'ONU ».
L'honorable Irwin Cotler, avocat et défenseur des droits de la personne, a mentionné que « pour servir les intérêts de la justice, il faut d'abord reconnaître l'injustice ». Or, Hillel Neuer vit en accord avec ce principe, donnant une voix à ceux qui n'en ont pas. UN Watch s'est fait le défenseur de la vérité et de la justice au Parlement de l'humanité ainsi que dans les médias du monde entier. Pour rendre hommage à ses réalisations exceptionnelles, la Ville de Chicago a déclaré le 15 septembre 2016 la Journée Hillel Neuer.